BluE Take Away Containers
Your customers are more concerned about the environment than ever before. One way to easily show that you respect their concern is by offering your customers eco-friendly choices that are both sustainable and minimize environmental impacts. BluE take away containers incorporate both of these principles, giving you a great way to take care of your customers and the environment.
Sustainability
BluE take away containers and boxes are manufactured from natural, non wood fibres such as sugar cane, bamboo and reeds, all of which come from renewable sources. Natural, non-wood fibres offer a cost effective way to maximize sustainability and keep our forests safe. The containers offer all the traditional qualities of disposable food packaging: they are rigid and stable, making them microwave safe, water resistant to 100°C and oil resistant up to 150°C.
Minimizing Our Environmental Impact
The natural fibres make BluE take away containers totally decomposable, reducing the amount of harmful plastics and foams that end up in landfills. In addition, the manufacturers demonstrate their environmental commitments by implementing a rigorous ISO 14001 certified environmental management system.
BluE Disposables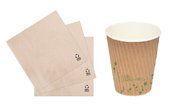 Klaremont also offers take away cups and disposable napkins. Like our take-away containers, these have been carefully selected with the environment in mind. Be sure to look at our full range of bluecosystem products – better for the environment and better for you.
Quick Facts
Made from sustainable non-wood fibres
100% Biodegradeable
Water and Oil resistant
Rigid, stable, and safe to use
Microwaveable
These Take Away Containers are available from Klaremont: